Let's Get Your Business-Building Podcast Launched and Live!
Put your key networking, client attraction, and Celebrity Expert Branding tool to work, growing your business as your 24/7/365 salesperson!
You're in the right place, should you now find yourself embracing your reasons for launching and hosting your own podcast.
We're here to help and will meet you wherever you are.
Which of the following statements best describes where you find yourself right now?
We Have Three Customized Levels of Podcast R.E.A.C.H. – Select The Option That Most Closely Matches Your Current Situation
Let's team up and figure out, together, which of the following is the best fit for you: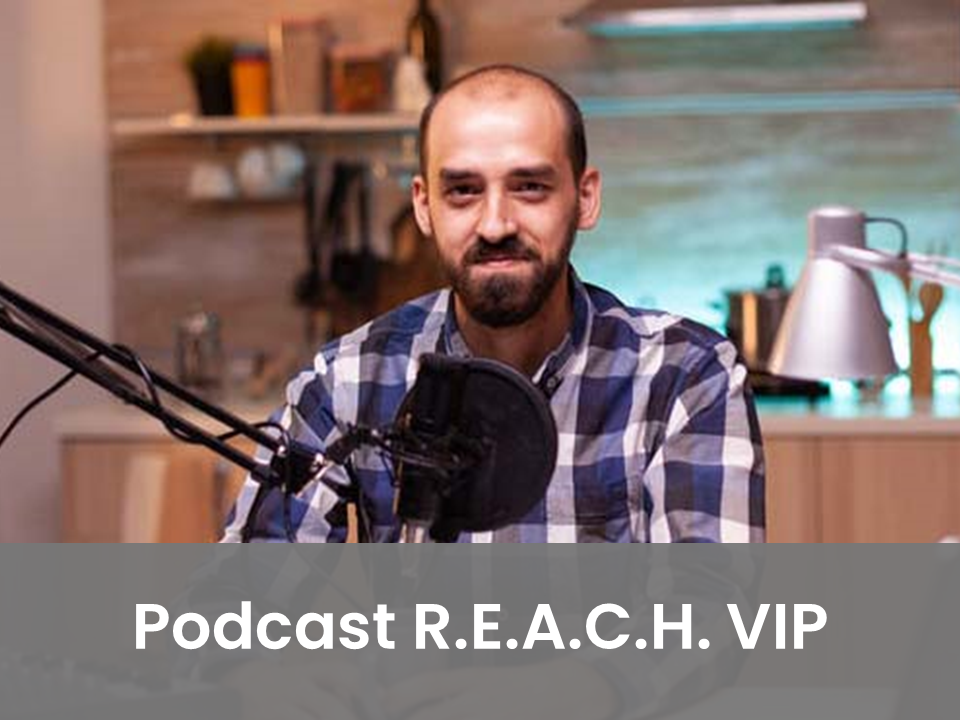 R.E.A.C.H. VIP – this goes beyond simply launching your podcast, and is ideal for the entrepreneur who is ready to launch a business-building podcast as the spearhead to launch a new brand or enter a new market, creating a Celebrity Expert Brand in the process – this is very exclusive and we only do 10 of these per year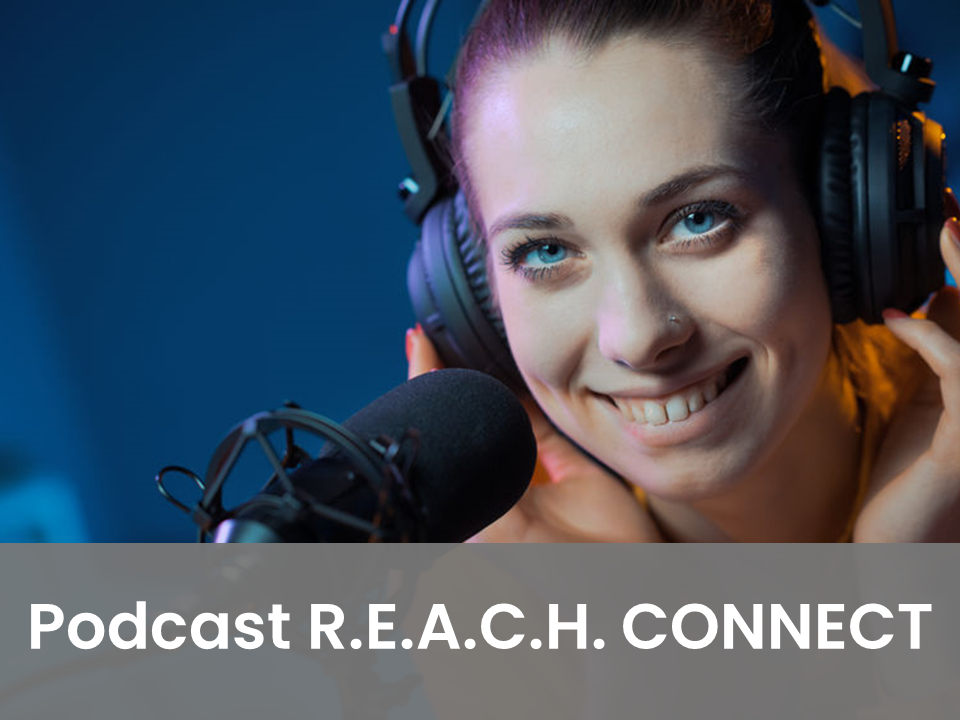 R.E.A.C.H. CONNECT – you need your podcast LIVE and you need it done FAST – this creates your New Media portal that you'll use to quickly open conversations that close deals while at the same time getting yourself booked to speak on more podcasts, stages, and events than you've had up until now
R.E.A.C.H. ROCKET – you've "checked the box" and put up your little podcast on something like Anchor, Blubrry, or Podbean – but it's not growing your business. We get you from "here" to "there" with a real New Media Portal you fully own, that truly grows your business and establishes your Celebrity Expert Brand
All Three Levels Deliver You A Personalized Experience That Gets You An Optimized Business-Building Podcast FAST!
What makes each level unique is the way it's tailor-made to match your situation.
For example, R.E.A.C.H. VIP is actually hiring Adam as your "business creator's sensei" for an entire year to guide you through creating an entire new brand or line of business, using your new podcast as the marketing spearhead. It's very exclusive, and it's not for everybody – but it may be for you.
R.E.A.C.H. CONNECT and R.E.A.C.H. ROCKET, on the other hand, are focused primarily on getting your podcast optimized and launched so you can start opening more conversations that close deals.
The next question is whether or not you have already launched your podcast.
If you already have a podcast of some sort, but it's not growing your business the way you need it to, R.E.A.C.H. ROCKET is more customizable to get you "from here to there" by transforming your show into a New Media Channel you fully own and use to powerfully attract human and search-engine eyes.
If you don't have a podcast yet, R.E.A.C.H. CONNECT may be your best bet, and you should also ask us about the R.E.A.C.H. VIP experience.
Below, you will find a comparison chart that helps you decide the best way for us to move forward together.
But first…
Here's What All Three Levels Of Podcast R.E.A.C.H. Have In Common
The foundation of our work together is the Podcast R.E.A.C.H. System, which takes us by the hand and walks us through:
Creating your three Podcast Avatars – yourself, your listener, and your guest – this is the foundation of your successful business-building podcast
Crafting your podcast's Title, Tagline, and Description along with selecting the website URL – all of this attracts more of the right human and search-engine eyes to your podcast
Designing your commercials for your own products, services, and solutions that you'll insert into your episodes and "sell without selling" to everybody who tunes in
Organizing your "show flow" and your process for screening and inviting guests, so you can create episodes while the website is being built (this saves a LOT of time)
Using the Pre-Editing Process to conduct amazing interviews that require 10 minutes or less of post-production before they are posted to your website
Mastering the "Green Room Conversation" with your guests – this is where the conversations you open with your interviews become closed deals and get you more clients
Using the entire process to make copywriting and posting your episodes virtually a fill-in-the-blanks exercise that takes you or your assistant almost no time at all
Launching your podcast, then using Organic Content Multipurposing that puts your podcast at the service of ALL your content-marketing and business-building activities
Here's what we do for you to get your business-building podcast launched FAST:
We provide you the Guidebook that takes you by the hand and walks you through the Podcast R.E.A.C.H. System – a cumulative process that quickly becomes a fill-in-the-blanks exercise using work you've already done (saving you even more time)
We serve as your creative partner, brainstorming guide, and Podcast Sherpa through the 1:1 coaching calls that are the first part of the experience
As soon as we get the design questions answered, we build your podcast website, on your hosting (you truly OWN it), matched to your company branding
Our graphic designer creates your podcast logo, editable files for episode promotion graphics, and banners for your website that promote your own products, services, and offers
After you send us your first batch of finalized episode files, along with your episode write-ups, we post them for you (up to 8 episodes)
We also document this process, making it as fast and easy as possible, and make sure you (or your assistant) quickly gain mastery so you save time, over time
We put the site live, validate your RSS feed, and submit it to up to 15 syndication networks (such as Apple Podcasts, Google Podcasts, Spotify, IHeartRadio, the Blubrry Network, etc. – you get the idea)
At this point, we get your new business-building podcast officially launched
Through our In-Demand Expert agency, we get you three awesome guests for your show, plus place YOU on three great podcasts – these things add speed and energy to your new podcast
Overall, we walk beside you on this journey and whisk you through it, every step of the way!
Here Are Your Podcast R.E.A.C.H. Options, Side-By Side
Compare your options, then keep scrolling to take that powerful next step: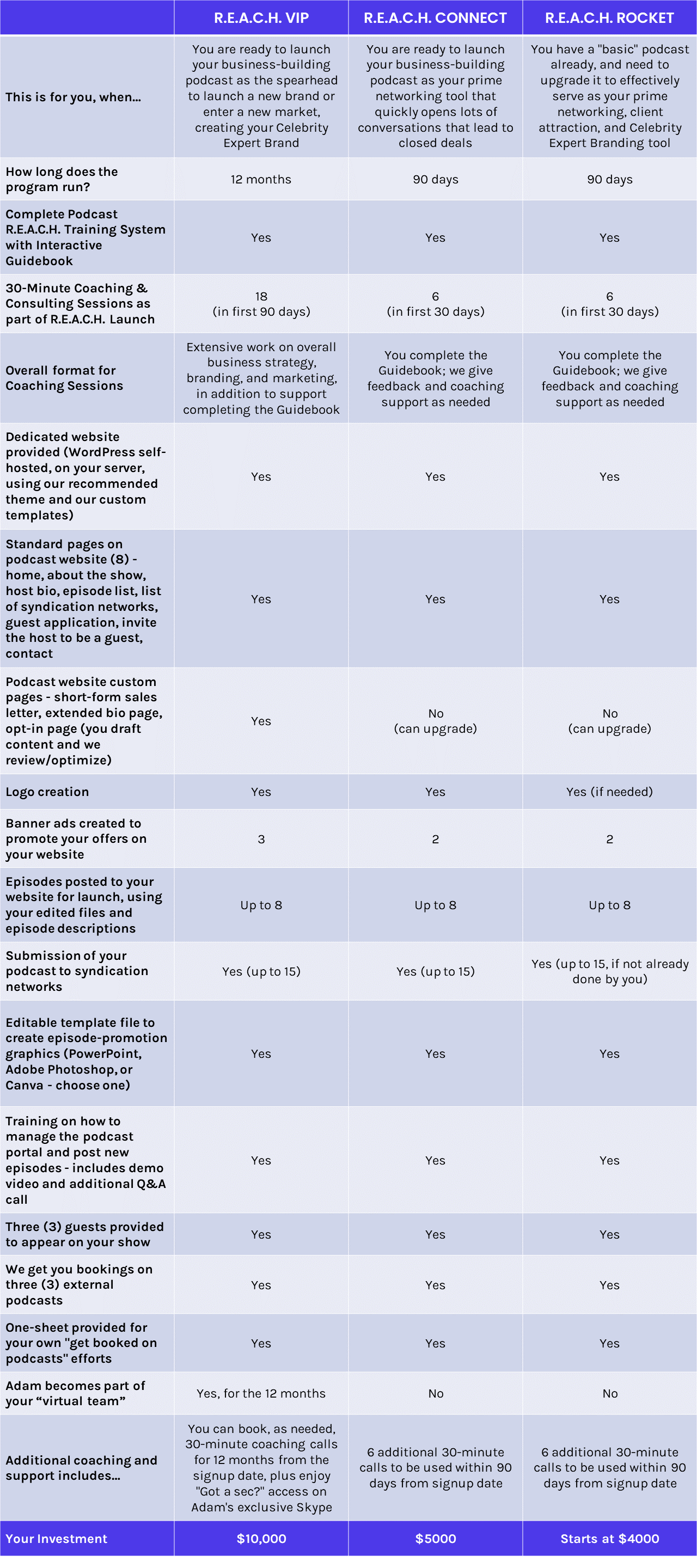 Let's Begin The Conversation
If you would like our help getting your podcast going FAST so you can get more clients and referrals RIGHT AWAY, your first step is to book a Podcast R.E.A.C.H. Jumpstart Call.
Simply use the scheduler and book yourself in for the nearest mutually convenient time.

Unless you request otherwise when you schedule the call, all calls will take place using Zoom Audio.
NOTE: some evening options are open as we recognize many soon-to-be podcast hosts are currently side-hustlers.